Friday 30th December 2022
Recent feedback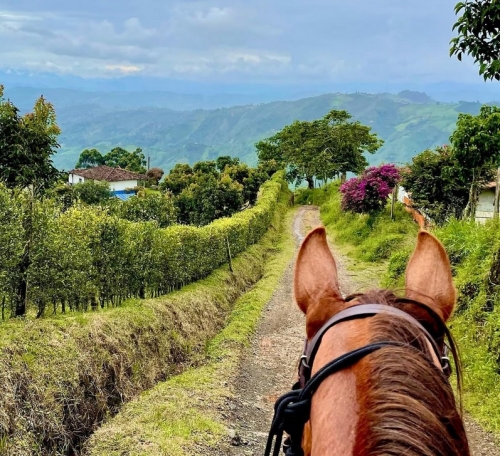 Colombia, March 2023
My trip was fantastic. Hard to better it.
I haven't been back to Colombia in 30 years and was concerned my memory of the country and its people was a romantic rose tinted one.
But the trip confirmed all that I felt all those years ago. The country is unparalleled in its beauty and the people in their warmth and generosity.
Marc Noonan is the perfect host and guide. Rancho Sáman is a paradise.
What particularly stands out is his love of the country and its people.
But also the love of his horses. Those horses are loved and they know it. I couldn't have been happier with the responsiveness and character of mine - Manchado.
The food all along the way was exceptional. The range of accommodation impressive, varied and always comfortable. I always felt in a network of people and places that Marc has worked hard to cultivate. And wherever we went they loved him and we were made to feel like special guests.
I'll be recommending the trip to many people.
Argentina, Jakob Von Plessens Patagonia Adventure, December 2022
We had an AMAZING trip to Argentina. I really can't overstate how much we enjoyed the experience. We're already trying to figure out when we can do our next riding trip. I think we're hooked.
Daisy and Marcos were the perfect hosts. They were gracious and charming and kept a smile on the whole time, while keeping us all safe. They did an amazing job pairing horses to people. Dan had a great time on the experienced Manzo and I already miss my little mare. It's just lovely to be around such happy, healthy horses. The setting, food, and accommodations all far exceeded our expectations.
Jordan, Petra to Wadi Rum, 28th August 2022
The entire trip was fantastic. Hashem really looked after his horses which was so lovely to see. He also made sure the weakest rider in our group was happy and by the end she wanted to race all the time. We had the most fantastic time. Samer was an excellent chef and the food was far better than we had expected.
Kenya, Offbeat Safaris, 25th August 2022
It was as brilliant as ever. We were incredibly lucky with the game viewing. On the way to camp from the airstrip we saw a cheetah and two cubs, then when we got to camp and went to see the horses, there was a leopard sauntering past! Of course we saw all the other expected game over the week.
Simon and Daisy were superb hosts, and the whole team as excellent and diligent as ever.